Meet Cindy Gallagher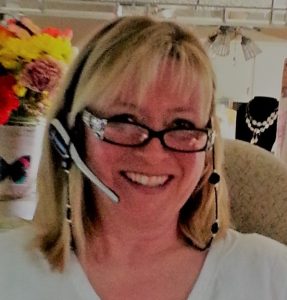 I am a passionate, motivated, persistent, artistic person with a great sense of humor. As a hard worker, I always enjoy new challenges!
I have a passion for animals and have always had dogs, birds and fish in my life; my home is not complete without them! I am passionate about birds, some who know me well, call me a "bird nut" or tell me "I've gone to the birds!" At one point I even provided a home to a few rescued animals. It was so rewarding to give them a second chance; one day I hope to support a parrot sanctuary.
Currently, I have a bulldog named Bessie who will be turning 12 this year. Not so long ago, in February 2016, I lost my second bulldog-cross, Emeril. He was my heart beat. To this day I miss him very much and cherish my time with Bessie.
How Did I Get Started?
35 years ago I started my own aesthetics business. I greatly enjoy my line of work which allows me to be innovative, versatile and flexible. Although there are many challenges to being self-employed, I continue to be motivated to invest my time and energy in professional development, staying up-to-date with new trends and products, and my own personal self-care.
I love working in aesthetics. I specialize in foot care, artificial nails, facials, and waxing. I wanted to continue my professional development and move into alternative and more natural products and services. Over several years I completed training to stay current in my profession. This is when I completed training in Reflexology and Reiki I & II. From there I continued my learning in Cosmetic, Paramedical and Body Art Tattooing. My goal was to complete my Paramedical portfolio and work part-time in a surgeon's office tattooing areolas for patients requiring breast reconstruction.  I strongly believe that life is too short not to take advantage of new learning.
While working in this field, another opportunity came to my attention (a.k.a Life Vantage). Everything happens for a reason…Although I never dreamt of a career in networking, a friend gave me a new start by offering a sample. Initially, I was skeptical about the product, and so I wanted to do my own research. I didn't start using it right away…
I tried the canine version first on my dog Emeril, at the time his health was failing, he was 11 years old. I was given a bottle of Canine Supplements from Life Vantage (watch here) and he started on ½ a tablet twice a day. I couldn't believe it! After just one week he was doing amazing! He had more energy, regular bowel movements, his white blood cell count was down (according to a blood test that was administered) and he was himself again. I was astounded! That is when I started taking Protandim, the human supplement. I didn't notice much of a difference at first. It was at the 3 month mark that people started commenting on how my neck was moving more freely as opposed to moving my entire body. I should mention that I suffered from a painful neck injury 2 years prior to starting on Protandim. This encouraged me to continue taking Protandim and to reap the long-term health benefits!
After having put Emeril and myself on Life Vantage supplements, I decided to put my bulldog Bessie on the Canine Supplement. Bessie recently turned 12, suffers from hip dysplasia and arthritis in all of her joints. She has been taking the Canine Supplement for a year which has helped reduce the inflammation in her body, allowing her to move freely without discomfort. Now she has more energy, wants to play, and go for her little walks! For an old dog she's keeping me on my toes!
As time went on I started to sell Protandim in my home business. I couldn't keep it on the shelf long enough. After noticing this success, I started using the True Science Skin Care Regime on a daily basis and noticed amazing results with my skin, since I suffered from Rosacea… I just love it!
A close friend suggested that it would be in my best interest to become a distributor. I was hesitant to become a distributor for a Multi-level marketing (MLM) company because I was not well informed on the subject.  I started to investigate this company and I liked what I found.
There is a very interesting story how Protandim became MLM watch here
I decided to sign up and I have never looked back! You don't know what you don't know…
Is MLM a Scam or Pyramid Scheme? 
Within the first month I had already signed up three distributors that were excited about the incredible benefits of this product. Within one year I gained a pro five designation, which didn't mean much to me at the time. I was just happy to learn and educate people on the true benefits of Protandim. I enjoyed growing and connecting with an amazing, positive team. My business with LifeVantage keeps growing. I will be totally honest, it's not always easy. Not everyone will see the benefits or the importance of this product and that's ok. But as an entrepreneur, I have made a commitment to put the time in and to share this great product with as many people as possible "good or bad, up or down" and when you do, it will pay off! The efforts pay when you least expect it.
Where I Am Today
One day, my world drastically changed due to an unfortunate accident. Everything came to a complete halt. I was in a motor vehicle accident on Sunday January 10th 2016. Weather that day was bad, high winds, blowing snow, and poor visibility. I was hit head-on by a pickup truck that lost control and came into my lane. This accident has affected my ability to complete daily tasks, including my aesthetics work and operating the business I had worked 35 years to grow. It was an unforeseen event that directly affected my financial income, as well as my overall well-being. I feel….. depleted, mortified, this has impacted my family life, relationships and social activities. I suffered a concussion that turned my world upside down. I was sensitive to light which would not allow me to go outside without sunglasses. The first few months I had to wear sunglasses in the house on really bright days. I was not able to sit through meetings or talk for too long, I would lose my concentration and focus. I would get so dizzy and lose my balance. When I walked down the street, I felt like I was walking sideways and was going to fall down. I still suffer from headaches daily.  I look ok and fine on the outside, so often others don't understand the repercussions it has on the inside. It's exhausting and hurtful. Unfortunately, I had to close down my aesthetics business that took me so long to build.
After my concussion, I realized I had forgotten how to do certain things. I had to re-learn many activities over again, like the smallest things, from using a bank card to cooking, printing, using the computer, and spelling, to name a few. Reading triggered headaches, blurred vision and so on. This was a shock to my body. It was surprising to me the support I received from the people I would least expect, and not from the closest ones that I thought would be there. It's not easy when you had a great and fulfilling life, for it to come to a complete halt. Everything became silent, not many people socialized with me since they couldn't understand why I was the way I was when I looked "normal. Thank God I have a great sister and brother a few close friends that have been supportive to me. I thank them and appreciate everything they do.
"People don't want to hear about brain injury until it's happened to them or to someone they love"
What Brain Injury Survivors Want You to Know
I need a lot more rest than I used to. I'm not being lazy. I get physical fatigue as well as a "brain fatigue." It is very difficult and tiring for my brain to think, process, and organize. Fatigue makes it even harder to think.
Brain injury rehabilitation takes a very long time; it is usually measured in years. It continues long after formal rehabilitation has ended. Please resist expecting me to be who I was, even though I look better.
I am not being difficult if I resist social situations. Crowds, confusion, and loud sounds quickly overload my brain, it doesn't filter sounds as well as it used to. Limiting my exposure is a coping strategy, not a behavioral problem.
 If there is more than one person talking, I may seem uninterested in the conversation. That is because I have trouble following all the different "lines" of discussion. It is exhausting to keep trying to piece it all together. I'm not dumb or rude; my brain is getting overloaded!
Moving Forward
Fortunately, I had already been involved with Life Vantage for 2 years prior to my accident. This allowed me to receive monthly income which helped out tremendously in a financial crisis. An important thing to do if you are self-employed is to invest in a Personal Accident Insurance Plan (I can help direct you to the right people). I've learned from experience that I don't wish this to happen to anyone. We do not have control over unexpected events; however, I believe we have the ability to control how we react to the things that happen to us in life. Although this journey and dramatic change in my life has been a huge struggle, I continue every day to work hard to adapt myself to this "new" life / me. I monitor my daily tasks and listen to my body, thanks to my Speech Therapist and Social Worker.  Although I am not able to work in aesthetics right now, I have incorporated new tools to be able to continue my work with Life Vantage. I hope to someday restart my aesthetics business which is a more physical challenge. I keep reminding myself I am very lucky, it could have been worse. Each day is a new day!
"Each day is a decision and our decision determines our destiny. My decision is to never give up." Elder Nelson
Benefits of Life Vantage
It is an amazing product and there is nothing out there that compares!
I have done my own research, and all the facts are there. For you, it's about what's important to you and where you're at in your life. Often in today's world people are looking for a quick fix, which can be a band aid approach, not a solution that will help them in the long run. It's important to focus on and research what we put on and into our bodies in order to live healthier, happier and longer lives. It's hard not to put a price on your health. Please keep an open mind. You may be surprised what you could learn!
Within Life Vantage, I love all their products since there are so many benefits. Please check them out on my web page. You will be happy you did!
Becoming a Distributor
I believe it is important to be open to learning about earning residual income. It's our new tomorrow. You have to fall in love with what you sell, then that love will sell itself.  And when you are able to sell your love and enthusiasm, then it doesn't make any difference what product you sell! I am so excited to share with you my love, and help you to get started on a journey to residual income! You just need to ask the question "how do I get started?"
Success:  You don't have to be great to get started,
but you have to get started to be great.  
Les Brown
Find your passion and go with it and don't look back. Regardless of what people think or say.
Thank you for reading!